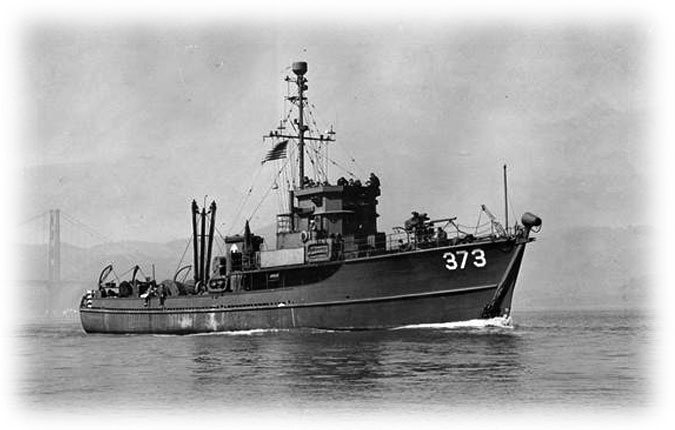 USS YMS-359 | Historical archives | Underwater images/video | Exploration updates
Sidescan image of YMS-359:
Image courtesy of Innerspace Exploration.
More underwater images:
YMS-359 is located in the middle of the lake straight out from Houghton (present day Carillon Point). The wooden hull is completely intact. It is still Navy gray and has the numbers "359" on either side of the bow, similar to YMS 324 and 313 in the pictures above. The hinge plates for the acoustic "hammer box" are on either side of the bow near the bottom of the hull. The "hammer box' devices were used to detonate some types of mines.
Numbers on side of hull near bow.
The wheelhouse and cabins above the main hull are missing, probably as a result of the fire. Sections of the decking on the top of the forward section of the hull are also missing, offering views of the cabins inside the hull. All of the portholes and other brass fittings have been removed. The forward cabins contain bunk beds and bathroom fixtures, but are otherwise empty.
Aft of the cabins, the hull contains three large open holds that are, for the most part, empty. There is some machinery in one of the holds. However, the engines, shafts and propellers are missing. There are holes in the bottom of the hull where the propeller shafts should be.
SCRET diver Walter Jaccard inspects inside cabin window with missing porthole.
Hinge plate for acoustic "Hammer Box" on starboard hull.
Machinery in hold.
Bathroom sink inside cabin.
More images (click for larger files):